What is a Vista Icon?

In early 2007 Microsoft officially released its new flagship OS, Windows Vista. Vista includes various new properties and improvements. It has bundled software and a new polished appearance. The most obvious upgrade is the new and improved look and functionality of the user interface. The new Windows Aero user interface (offers an environment with appending rank optical complexity) may provide optical effects such as glisten and transparent interface elements.

Aero is the graphic user interface of new optical effects in Windows Vista. A series of new techniques such as the desktop Window manager has brought about the improved user interface. It has a richer optical experience including a transparent Window effect, animation, document preview, 3-dimension special effects, and more.
New icon formats supported by Vista:
256x256 - RGB/A
256x256 - 256 colors
256x256 - 16 colors
48x48 - RGB/A
48x48 - 256 colors
48x48 - 16 colors
32x32 - RGB/A
32x32 - 256 colors
32x32 - 16 colors
16x16 - RGB/A
16x16 - 256 colors
16x16 - 16 colors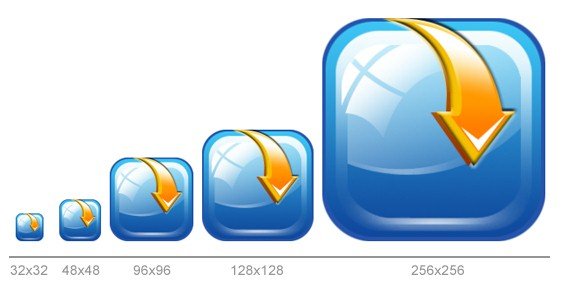 Vista supports 256x256 pixel icons. The final file size will be about 400K after you made an icon and saved it into the standard Windows XP ICO file. Therefore, it should be compressed. Only the 256x256 pixels icon has been compressed with the compression mode of PNG (Portable Network Graphic), because the effect will be better and it also supports Alpha channel (transparency). The file size will be between 100K and 150K after compressing.
Vista compression icons are compatible with Windows XP, the system can read and display the standard format(48x48, 32x32 and 16x16). The 256x256 PNG format icon will be ignored. The 128x128 pixels icons are also supported in Vista icon format.