Microsoft announced that developers could convert the Win32 program(.NET 4.6.1 or Win32) into the Win10 UWP application and upload it to the Windows store., The key tool for the "Conversion" is Desktop App Converter(DAC), and now it can be downloaded from Windows store.
By the "Conversion", some instant platforms will be automatically available, such as start menu integration, pure installation, upgrade, and uninstall, and generate Appx package for you.
As a team with 15 years experience in desktop application development, we immediately started adopting the "Conversion".
We spent a lot of engineering efforts to overcome all kinds of errors, edge cases during the exploration, such as the most common "invalid package family name". We also optimized the DAC parameters from hundreds of iterations. Finally we successfully converted 40+ Win32 applications and published them in Microsoft app store. Without any advertisements, we can get good sales.
Today we are willing to share our experience with you.
If you need help with transforming your Win32 program into a Win10 UWP application and uploading it to the Windows store, we can offer you five categories of paid services: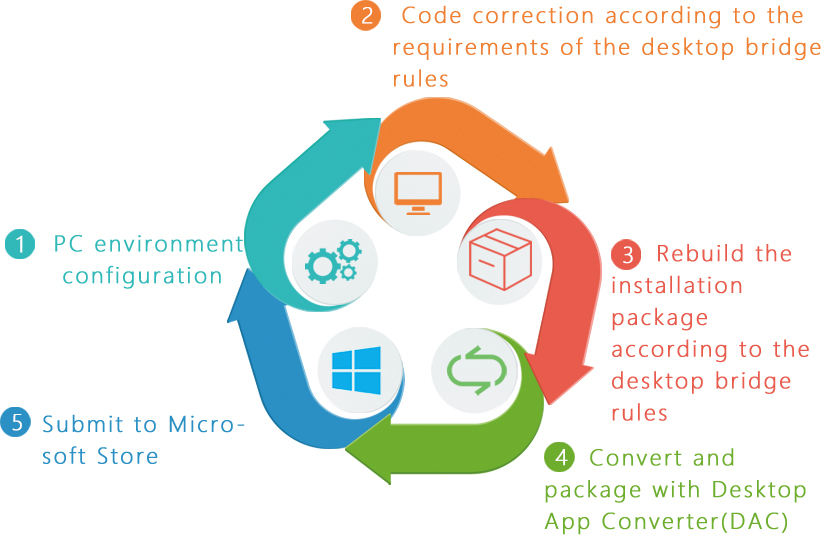 As we are the pioneer in this field, all the services involved exclusive experience and expertise from our company.
With our help, you or your team may save weeks or even months of development, and save thousands of dollars. More importantly, you may ship your products earlier and get access to the market with millions of users before your competitors.
Ready to take the opportunity? Contact us here admin(AT)iconcool.com (with subject "Win32 to UWP")

The DAC does more than just generate a package for you, here's a few extra things it can do for you.
Windows 10 Creators Update
Automatically register your preview handlers, thumbnail handlers, property handlers, firewall rules, URL flags.
Automatically register file type mappings that enable users to group files by using the Kind column in File Explorer.
Register your public COM servers.
Windows 10 Anniversary Update or later
Automatically sign your package so that you can test your app.
Validate your app against Desktop Bridge and Microsoft Store requirements.
(From Package an app using the Desktop App Converter (Desktop Bridge))

Here's some reasons to create a Windows App package for your desktop
application:
Streamlined deployment. Apps and games that use the bridge have a great deployment experience. This experience ensures that users can confidently install an app and update it. If a user chooses to uninstall the app, it's removed completely with no trace left behind. This reduces time authoring setup experiences and keeping users up-to-date.
Automatic updates and licensing. Your app can participate in the Microsoft Store's built-in licensing and automatic update facilities. Automatic update is a highly reliable and efficient mechanism, because only the changed parts of files are downloaded.
Increased reach and simplified monetization. Choosing to distribute through the Microsoft Store expands your reach to millions of Windows 10 users, who can acquire apps, games and in-app purchases with local payment options.
Add UWP features. At your own pace, you can add UWP features to your app's package, like a XAML user-interface, live tile updates, UWP background tasks, app services, and many more.
Broadened use-cases across device. Using the bridge, you can gradually migrate your code to the Universal Windows Platform to reach every Windows 10 device, including phones, Xbox One and HoloLens.

(From Desktop Bridge)
Thanks
IconCool Team
Newera Software Technology Inc.