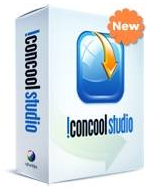 In the past 12 years, IconCool Team dedicated to icon creation and graphics conversion technology. IconCool products have over 100,000 registered users in 80 countries around the world, and IconCool has become a famous brand in shareware field.
IconCool Studio is one of the best icon creating tools in the market, the built-in IconCool Mixer enables you to create custom icons using multiple layers and a variety of ready-to-use elements.
How to Get Icon Program Source Code of IconCool
In response to the request of some of our customers, we would like to sell some source codes of IconCool software products. Now you can get the source codes of the following IconCool products at low price:
IconCool Studio: One of the best icon editor software in the market
IconCool Editor: The famous and easy-to-use icon editor software
IconCool Manager: The famous and easy-to-use icon library and icon manager software
IconCool GIF Animator: A professional and easy-to-use GIF animation software tool
If you need the source codes of our other products, please feel free to contact us too.
If you are interested, please contact us as follows:
Skeype ID: billbing2013 (Recommended)