IconCool Studio is a famous icon creator software in shareware field. It's an absolute solution for 32-bit icon and Vista icon creating, editing and modifying. With IconCool Studio 8 as your icon helpmate, you can easily create, edit and modify your icons in your studio. With the new, more efficient user interface, it can help you to unleash your innovation and inspiration to enjoy cheers.
IconCool Studio 8 supports Win7, Win8 and Vista OS. It allows you to create professional icons with fantastic IconCool Mixer, marquee operation and gradient editing.
The following will explain "How to Create Icons with 5 Methods?"
Method 1: IconCool Mixer ( Built-in Tool )
IconCool Mixer is a tool which is built in IconCool Studio Pro. It provides users who are not specialists with a quick mechanism for creating professional icons. IconCool Mixer also provides other useful functions including image layering and blending styles. You can also, without having extensive graphic design training, create unique icons based on 500+ image elements.
Sample Projects of IconCool Mixer
Method 2: Importing or Converting Pictures
IconCool Studio 8 can import a number of file types, such as PNG, BMP, JPG, JPG2000, GIF, PSD and TIF for creating icons . What's more, IconCool Stuido 8 enables you to export icons into various file types such as BMP, GIF, JPG, JPEG2000, WMF, PNG, TIF and so on.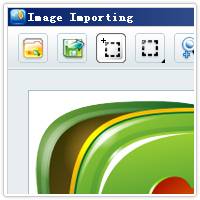 Related Youtube Videos:
Convert Pictures to Icons with IconCool Studio
Method 3: Creating Bitmap Images for iPhone, Andriod and Unix Easily
IconCool Studio 8 can create high-quality icons for all versions of iPhone, iPod Touch and iPad. It allows you to create bitmap images for iPhone, Android, Unix application. The bitmap images contain only one format (size and color) and can be saved in different file formats such as optimized BMP, PNG, JPEG and GIF.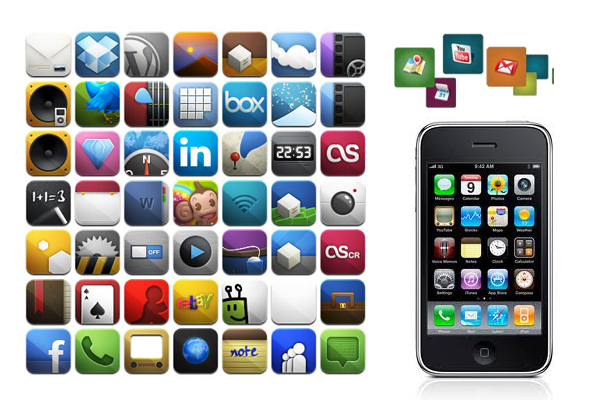 Method 4: Make Icons with Different States in a Minute
IconCool Studio 8 has a function for creating three different states automatically for current editing icon. The software will create Lighter (active), Current Pick (valid) and Gray Scale (invalid). Use this to make a suit of software toolbar buttons with ease.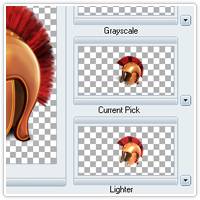 Method 5: Mutual-sending Image Between Photoshop and Studio 8
IconCool Studio 8 also allows you to send an image to PhotoShop. From IconCool Studio 8, you just choose "Send this image to PhotoShop" from the pop-up menu. The current image will then be transferred to PhotoShop editing area.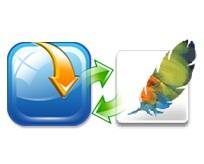 Other Useful Functions:
Fantastic magic wand tool : It's an easy way for you to select a consistent colored area. When you click an area in an image with magic wand tool, then all areas which have similar color will be selected. You need not to trace out the outline for the areas you want to select. It improves the preciseness for your operation and save your time.
Friendly interface and comfortable operating experience: Studio 8 is easy to use with a friendly interface. We understand that designers are accustomed to using design software such as PhotoShop, Flash, and Fireworks. We developed the interface and operating methods of Studio 8 with your comfort in mind. With self-contained coding and optimization Studio 8 allows more stable quality and running efficiency to be available.
Flexible gradient editing and powerful color management: Studio 8 has powerful and easy-to-use color tools, such as color panel, foreground color tool, background color tool, sample color tool and transparency setting tool. Moreover, in order to allow for color flexibly, the software has options for changing from the currently used color to a transparent color or white, or any other color. Studio 8 offers you convenient gradient tools, you can create, save, use and manage these gradients in the same way as you would in Adobe software family.
Powerful marquee operation: On the basis of Studio 6, marquee tools have been improved and enhanced in Studio 8 to more conveniently and flexibly select any element of the canvas. Theses tools are Rectangular Marquee Tool, Ellipse Marquee Tool and Polygon Marquee Tool. While using these tools the experience of convenience and swiftness bears the features as well as that of Adobe Photoshop.
Visible filter operation: Studio 8 provides you with about more than 10 filter effects. You can open the preview panel and view the effect after adjusting the preferences by using filters as in Adobe Photoshop.